After a great day on Pete's birthday on Nusa Penida, we decided to actually spend time on Bali today 😂 I have been to Bali before, and although everyone says that Ubud is supposed to be the Balinese capital of culture and beauty, to be honest, I don't feel this way. Ubud is commercial, busy, cliche and overrated. Pretty much all of Bali is beautiful, there are temples and cultural sites dotted everywhere. I did want to take Pete to a few places near Ubud, so we contacted a local company in Klungkung and hired a little jeep for the next week. The plan was to take the jeep on a little island tour from our base in Klungkung, over to Ubud for the day before heading back to Sideman for the night.
After collecting the car we drove to Goa Gajah, which was one of my favourite sites from last time in Bali. The cave is really cool there, but there are also extensive gardens and waterfalls on the site which are really quiet and peaceful.
The caves were way busier than last time I was here and there were also lots of street sellers and shops actually inside the site too, which weren't there last time. So we escaped into the grounds' gardens.
One of the things we did like about Ubud was the number of vegan restaurants, so after a quick pit stop for food we continued on to our next stop. We had planned to go to the Ubud Monkey Forest, which was also one of my top favourite places from last time, just on the outskirts of Ubud. But when we picked up the car, they guy asked us where we were going. He told us that Ubud monkey forest is too busy these days and that the monkeys are getting naughty. He recommended a different place, which he said was much better, with nicer ruins – Sangeh monkey forest. So he headed over there instead…
This park was a bit out of the way and was certainly a lot quiter. Unlike Ubud forest, a guide here wasn't necessary, but we had a guy follow us for quite a while, with a slingshot in his hand…
We were a little intimidated of the monkeys from the start. They didn't look happy and they were 'controlled' by the guides with treats and the threat of the slingshot. We got quite close to some of them, but after a while, we just wanted to look at the site.
Sangeh is a lot smaller than Ubud forest, and I would say, nowhere near as interesting. It's all on one level, there are no pools or bridges or steps like at Ubud. We followed the map to try and find the ancient trees in the park. We were the only ones around, which was lovely and peaceful, until we encountered a big troop of angry-looking monkeys. They began trying their luck, charging at us then backing off, trying to intimidate us and scare us away – it certainly worked. But then things stepped up a gear and it looked like the monkeys were actually going to attack us, we were trapped in a corner of the park with no where to go, but out on to the village road. A monkey charged a Pete, teeth-bared, ready to attack. Pete launched one of his Thai boxing kicks and sent the monkey flying away. The troop stopped momentarily, unsure what to do. In that moment, we rushed past them out of the park on to the road. They followed after us, so we hid in a local shop!
It was crazy!
We waited a few minutes and the monkeys backed off back into the park, but now we were trapped on the outside of the park, with no way back in. The park is walled mostly, so we were faced with a long walk all the way back around to the entrance to collect our car. I tried to grab a taxi, but there were none around. In the end, I flagged down a car and told them our story – "how much will you pay me to take you back" he said. I said "nothing, surely you can just help us". He just stared at me…. so I said "50,000 Rup?" That was enough apparently…
We crawled back into our car with mixed emotions. Pete felt extremely guilty for "toe-pecking" a monkey… "not very vegan, is it?!" but I was grateful he did as I genuinely think we would have been attacked and bitten otherwise.
We should have stuck with the Ubud monkey forest…. I guess you win some, you lose some…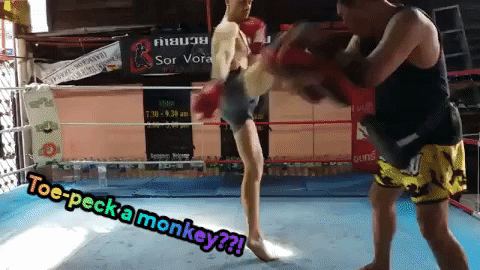 The plan after the forest was to head back to Sideman a different way via Tegallalang and some temples and waterfalls to the North of Ubud, but the monkey experience has stressed us both out, so we took the quickest route back to the guest house.
The clouds were still present in the area, so we couldn't see much. We checked into our new guest house for the night, which I had booked because of the stunning views over to Mount Agung and the rice fields. Pete didn't believe me… "what mountain? I can't see a mountain" he kept saying…
Finally, the top of the volcano started to creep out of the clouds… We'd have to wait to the morning to see it properly though. Still, the pool was amazing and we were the only ones there, so took the time to chill out after the "toe-pecking a monkey" incident.
The next morning we enjoyed an early start and relax by the pool again. We watched a young couple have a photoshoot with their floating breakfast (a seemingly new Bali phenomenon). They spent over 45 mins taking photos in the pool with their floating breakfast. The shoot even included a change of bikinis and lots of "bum-out-of-the-water" shots. The breakfast was also shit…. honestly. And I'm sure after 45 min of floating on water, it was even worse, and those guys were going to be promoting it everywhere on the gram. We felt very old…
Feeling suitably chilled and refreshed, we headed out for the day in our jeep. We were moving again, this time to the North West side of the Island; Pemuteran. The route would take us through the interior of the island past Mount Agung and Mount Batur. So we decided to break up the journey with a stop at Besakih temple. The most important temple in Balinese culture.
We arrived at Besakih, parked up and paid. We were told the ticket to Besakih included a motorbike taxi there and back, a guide, a sarong and entrance fees. So we jumped on the back of a motorbike each to complete the journey to the temple.
We got to the top and my guy said "tip?!" I gave him a couple of coins I had in my pocket. He looked at me like "more…". Now I know this is a massive culture thing…. tipping is not the norm in the UK. Prices are 'the price' and tipping is mainly reserved for exceptional service – it can often be a bit of a taboo thing to talk about too. You certainly NEVER ask for a tip, and whatever is given, you should be grateful for. It's why Pete and I try really hard to learn about the local culture and make sure we're not being inadvertently rude by not tipping… But right now I had my British hat firmly on, I'd paid for this trip already! It took less than 1 minute and my guy didn't even speak to me! Except to ask for a tip!!! It didn't help that I also had about 5 women around me all trying to sell me shit I didn't need, like a sarong or an offering bag, telling me I won't get in unless I buy one…. Long story short, I snapped and shouted at all the people around me
"STOP!" I yelled.
Needless to say, everyone slowly backed away…
Then Pete came up to me and asked for some money to give his guy a tip…. his motorbike guy in-toe… 🤦
Anyway… we got to Besakih, got a free sarong with our tickets and assigned a guide, although I would have preferred to explore the temple on our own…
The temple is beautiful, with views out to the sea. Our guide didn't really add much to the experience, just things like "that's the lower caste quarters", "that's Vishnu" etc etc. We asked some questions, but it felt like he actually didn't know any of the answers. We spent most of the "tour" worrying about if he expected a tip (we decided he would) and how much to tip him. It wasn't very relaxing.
At the end of the tour I gave him 50,000 IDR. He laughed and asked for more… the bloody cheek!! I tried to stay calm and just smiled – "No, I think that's enough" I said, before we left feeling quite stressed. We walked back down to the car park instead…
It's such a shame… at these popular places, in any country, there are always people who try to exploit tourists. I have nothing against tipping, or spending my money at small independent shops, basically just for the sake of it. But what isn't nice is the feeling that it is expected of me and that I am being exploited or taken advantage off. I didn't feel like this last time I visited Besakih… I guess too much tourism often brings resentment towards tourists by locals. They often get priced-out of the area and are faced with higher traffic and fewer resources. For me, this kind of behaviour is a consequence of over-tourism, and it's certainly not limited to Bali, but it feels bad to have contributed to it…
We spent the rest of the day on the road, driving past Mount Batur and through Kintamani, where we were asked to buy a tourist ticket if we wanted to stop and take photos…. Out of principle, we didn't get a ticket, and instead took photos out of the window without stopping 😂
The drive was amazing, through some of the most scenic areas of Bali. Once we were over the top of the mountainous region and in the North of Bali, the heavens opened and it rained the whole rest of the way to Pemuteran.
We eventually arrived at our blissful 5-star beach resort just outside Pemuteran. The skies were still dark, but it was starting to clear…
The last 2 days hadn't been the most relaxing, so we took the opportunity to relax by the pool and on the beach ready for our last 4 days of our holiday.
Up next – Snorkelling around Menjangan island, Bali
Then – DIY day trip to Ijen crater from Bali
Stay tuned!
Watch the video for this blog post here: